When:
March 23, 2019 @ 5:00 pm – 8:30 pm
2019-03-23T17:00:00-04:00
2019-03-23T20:30:00-04:00
Where:
Hobbs Tavern & Brewing Company
2415 White Mountain Hwy
West Ossipee
NH 03890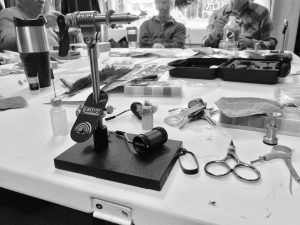 Saco Valley Trout Unlimited 299 Is pleased to present the Cabin Fever Reliver! Think your the best fly tier in the MWV? Well show us what you've got!
The first annual MWV Fly Tying Challenge takes place on March 23 2019 at Hobbs Tavern in West Ossipee NH.
Participants have 30 minutes to create a fly from their bag.
The fly must be delivered to the judges table before time expires.
Flies will be judged on creativity, fishability, and appeal.
Judges decisions are final.
Winner receives a $50 Gift Certificate to the North Country Angler and the coveted MWV Iron Fly Trophy.
Entrance fee is $20. Entrants keep all materials.
Spectators, supporters, and hecklers are welcome for free.
All proceeds from the Iron Fly will be donated to the Saco Valley TU Habitat Fund.
The Iron Fly will be followed by Saco Valley TU showing of the fishing film "The Good Life".
Don't miss it!